We frequently hear people ask, "When should I pump my septic tank?" Others say, "Is there a regular frequency that I should schedule my septic to be pumped out?" Before we answer those questions, let's go over some septic tank basics to help you understand what all is taking place behind the scenes.
The Rundown on Septic Tanks
A frequent component of on-lot wastewater disposal systems are septic tanks. Solids that settle and float out of wastewater are removed by septic tanks. The septic tank effluent is subsequently distributed to the soil absorption area or sent on for further treatment. Wastewater solids must be removed to prevent blockage and failure of the soil absorption area.
The single or multi-chamber septic tank is where the house's untreated wastewater is sent after being collected. For many years, septic tanks were typically just single chamber tanks. Thanks to recent research findings, a much more efficient two-chamber septic tank is now required in many states for all new and renovated on-lot wastewater disposal systems. The two-chamber tank offers improved solids removal, since the wastewater is routed now through each of the two tank chambers. As a result, the lighter particles float to the surface as scum while the heavier solids settle as sludge. Up to 50% of the solids which are kept in the tank disintegrate, while the remaining solids build up in the tank. Decomposition cannot be aided or accelerated by the addition of biological or chemical substances. Additionally, a solids retainer that improves the septic tank outlet's ability to catch particles is required.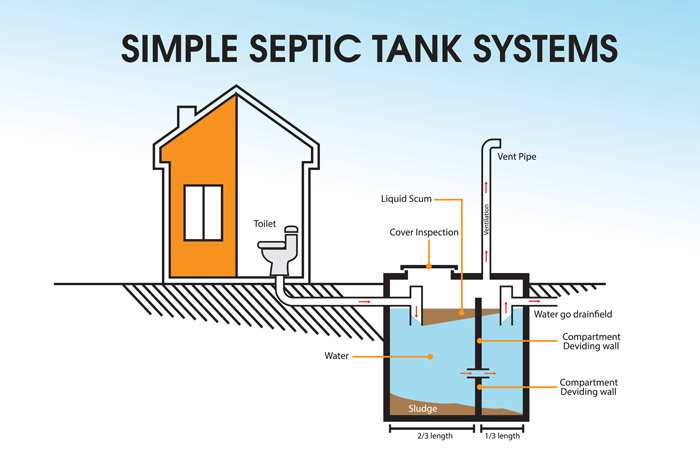 The bottom of the septic tank chambers continues to fill with sludge as the on-lot wastewater disposal system is employed. Septic tanks that are the correct size for any given household may safely hold three years' worth of sludge and scum. (A small septic tank for a large household will reach its maximum storage capacity much more quickly.) Sludge and scum buildup causes wastewater to be held in tanks for shorter periods of time, making the process of removing solids less efficient and allowing more solids to escape into the soil absorption region. The wastewater's solids will flow to the soil absorption field if too much sludge builds up, eventually causing system failure. The tank needs to be pumped periodically to prevent this from taking place. The substance pumped is referred to as septage.
The septic tank's capacity, the volume of wastewater (relative to the size of the household), and the amount of particulates in the wastewater all influence how frequently a particular septic system needs to be pumped. Note that heavy usage of a garbage disposal will produce more solids that will more rapidly build up in your septic tank.
The smallest size septic tank that can be utilized in a house with three bedrooms or fewer is typically 900 gallons in volume. In a three-bedroom home with six occupants, a tank that capacity should be pumped out every 1 1/3 years. The tank would require pumping every 5 years if the identical setup were used to supply a family of just two people. Older style septic systems which were put in place before the implementation of current septic standards would require pumping more frequently, possibly once a year or even more often. Keep in mind that anytime there is regular or heavy use of garbage disposals in the kitchen, your septic tank will require more frequent pumping, since those food scraps won't usually decay as fast as typical septage.
If you recently moved into a house, it's possible that you don't know how big the septic tank is. In this situation, it would be recommended to get the tank inspected and pumped. You can learn about the tank's size, age, and condition from the septic cleaning company that pumps it. If septic tanks are not regularly pumped, they don't tend to all of a sudden fail. However, a septic tank that isn't properly maintained won't be able to successfully keep particles away from the soil absorption region. If there is continued neglect when it comes to regularly pumping out your septic tank, then the septic system will ultimately fail and you may end up bearing the expense of having to replace the soil absorption area as sewage leaks out throughout the area around the tank.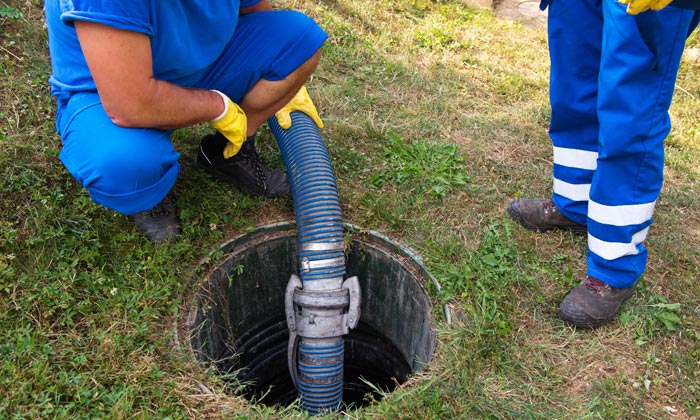 Pumping Out the Septic Tank
Your septic tank can be pumped by septic tank hauling and pumping contractors. To make sure that cleaning is done correctly, it is a good idea to supervise their work. The scum layer needs to be removed, and the sludge layer needs to be combined with the liquid portion of the tank in order to remove all of the material from the tank. The typical method for doing this is to pump liquid out of the tank and then reinject it into the bottom of the tank.
The two large central access openings, not the tiny inspection ports above each baffle, must be used to pump the septic tank. By pumping a tank through the baffle inspection ports, the baffles may be harmed and the sludge and scum may not be completely removed. Examine the baffles' condition before sealing the septic tank. If they are damaged or missing, replace them with sanitary tee baffles that are adequate.
Septic tanks shouldn't ever need to be entered by a person. It is best to work from the outside if you need to replace the baffles or fix the tank. In the septic tank, decomposing wastes emit hazardous fumes that can instantly kill a person. Make sure the environment is sufficiently ventilated and that someone else is nearby whenever a person is working on a tank. Never enter a septic tank without a self-contained breathing device to rescue someone who has fallen in and become overpowered by noxious vapors. Call for emergency services and install a fan on top of the tank to bring in fresh air if a self-contained breathing device is not available.
Before burying the tank, install risers from the central access ports and inspection ports to the surface to make future cleaning and inspection easier. Mark the tank's location as well, so it can be found quickly for subsequent pumpings.
Septic Tank Pumping Schedule
If you are a homeowner, it is wise to get into the habit of having your septic tank regularly pumped. It may be feasible to further improve the efficiency of your entire on-lot wastewater disposal system if you are able and willing to have your septic tank pumped on a regular basis (for example, every two years).
Your soil absorption system will also benefit from periodic relaxation (this is a period during which no wastewater is added to the system). It is advised that you have your septic tank drained every two years on the day before you and your family depart for a summer vacation in order to get the best benefits from this procedure. The soil absorption region in particular will have the chance to fully dry up as a result, and any partially digested organic waste that may have moved there will quickly degrade in the absence of water.
It is not advised to use additives in septic tanks to lessen the volume of sludge or especially as a substitute for pumping. In actuality, reliance on chemicals rather than routine tank pumping may eventually lead to an expensive (and messy) septic system failure.
A Quick Summary
An on-site wastewater system includes more components than just the septic tank. Prior to the effluent reaching the soil absorption region, the septic tank is intended to remove solids, allow for some of those solids to be organically broken down over time, and store the remaining solids for future pumping. Decomposition cannot be aided or accelerated by the addition of biological or chemical substances. The septic system is subjected to an additional, accumulating solids load due to kitchen garbage disposals. To keep sewage solids out of the soil absorption region, those solids must be periodically removed. Every one to three years, your septic tank needs to be drained and examined by a professional.
Clearwater Septic & Pumping
If you live in the vicinity of Charlotte, North Carolina, find out why Clearwater Septic & Pumping has become a trusted name in septic system solutions throughout your area. Contact us online or call (704) 630-5619 for regular maintenance, emergency repair services, or anything in between.