Many pool owners agree that the best pool accessory is a water slide! This item brings an adrenaline fix like none other — at least not within the bounds of your very own back yard! Once you've decided on increasing your pool's fun factor with a water slide, you need to consider a few factors before making the decision. And while you might picture a blue, straightforward design, realize that there are plenty of options out there.
Safety Considerations
As always, safety should come first. When it comes to safety, a slide that meets governmental safety standards is a great starting place. Because most slide-related injuries occur due to slipping on ladders, you'll want to take a look at the slide's stairway style. The safest option will be an enclosed stairway — especially for a slide you anticipate being used by children. Steps should also offer traction when wet.
In addition to the stairway, you'll want to consider the "water safety envelope." This phrase refers to several factors, starting with the recommended water depth upon entering the pool from the slide. Most manufacturers recommend a depth between 3.5 and 5 feet. Before determining a slide that works with your available space, you'll also want to check out the amount of overhang required (from the pool's edge) as well as the amount of clearance required (relative to the pool). All those factors are part of the "water safety envelope" and should be carefully considered before you decide on a water slide for your pool.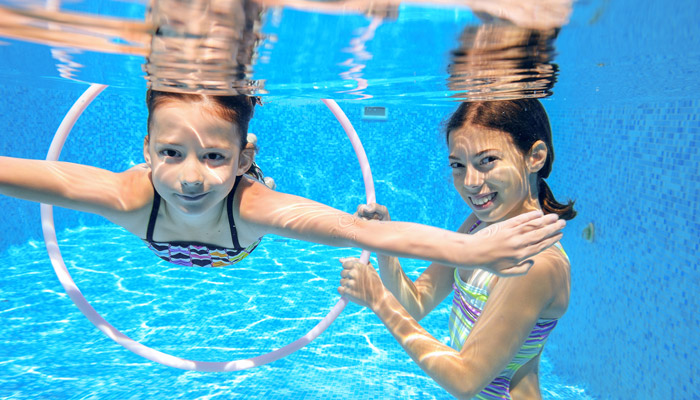 Space Considerations
In addition to safety issues, you should also take a look at a water slide's schematic before making a purchase. The schematic will include the amount of concrete required for installation. Some manufacturers refer to the amount of space needed as the "footprint," and depending on the size and shape, some slides will have a larger footprint than others. As you can imagine, those that include more curves will require more space. In addition to the space needed for the slide itself, you will need to allow enough space for people to comfortably climb the ladder to the pool.
Situation Considerations
While everyone will want to make sure a water slide is safe and fits your space, not everyone will have the same situation. For instance, you'll be looking differently if you wish to install a slide that's appropriate for adults. For that kind of use, we recommend slides with wide flumes, deep walls, and higher capacities (at least 200 pounds).
No matter what your situation and preferences, to get the best slide for your money, you'll want to make sure the one you choose has a durable, friction-free surface and is made from rotationally molded polyethylene plastic (view PDF) with a fiberglass gelcoat. Most waterslides will come with free shipping and can be easily built by a novice assembler. The instructions should be clear and detailed, in order to eliminate the chance of a mistake. The fewer tools needed, the better.
Learn More About Pools
• When Choosing a Swimming Pool Contractor
• What Kind of Pool is Right for You?
Lyon Financial
Since 1979 Lyon Financial has made the backyard resort dream come true for over 400,000 families across the U.S. Through our solid relationships with more than 3,000 pool contractors and our continued commitment to putting our clients first, we have built a reputation as the first choice in providing pool financing solutions. For more information, visit lyonfinancial.net or call (877) 754-5966 today.