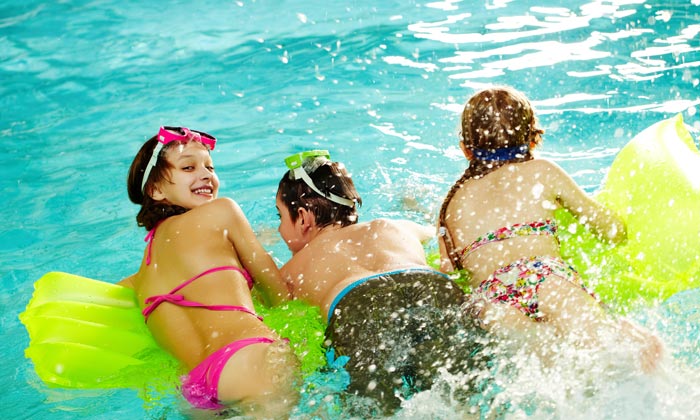 So you have a pool, then. You adore it. Your kids splash around for a while while you occasionally swim laps or engage in other cardiovascular water activities. You've also bought your fair share of lounge chairs, floats, and pool toys. What else can you do, though? You can play so many different games and hobbies in your own backyard pool! Let's look at a few fun pool activities for families. The following time-honored favorites don't require any additional tools or toys to be enjoyed.
Underwater Races
Underwater races are popular no matter what you call them – "Dolphin Races," "Mermaid Races," or anything else! You can clock races, set a goal for racers to strive to reach, or just see who can stay underwater the longest. If you have numerous players competing against each other, you could even draw tournament brackets on the ground using sidewalk chalk and set up a championship race between the division winners.
Pool Tag
Pool tag is another customary past time to have fun with after you are done with racing. One variation, sometimes known as "Shark in the Pool," alludes to the tagger as a shark. The individual who the shark tags becomes the new tagger, much like in a standard game of tag. Players may exit the water, but only for a very brief, pre-established time period. To outfit the shark, you can add fins, a snorkel, or a mask for more impact.
Popsicle Tag is a different variant of pool tag. When tagged, the players stand up and raise their hands above their heads to form a popsicle-like shape rather than stay frozen in place (which may not always be possible in deep water). Players in this kind of tag are "protected" from being frozen whenever they are submerged in water. They have the ability to tag "popsicles" while submerged in order to defrost them.
Octopus
Octopus is a water-based variation of Red Rover that might be compared to tag. In this game, the majority of players strive to cross the pool from one side to the other, while one player tries to tag the other players. Any players that are tagged should stand with the tagger and hold hands in the center with all taggers. You will eventually form an Octopus-like group in the center of the pool. When there is just one player remaining who is not a member of the tagger team, that person is declared the winner (and becomes the initial tagger for the next round).
Marco Polo
Marco Polo, a classic, may be seen as a different variety of tag. The tagger must belt out "Marco" while closing their eyes. The other participants must react with the famed explorer's final name, "Polo," whenever the tagger yells out his first name. For this one, all participants must stay in the pool and maintain their heads above water. The tagger must use only his hearing skills to determine where his fellow players are without the benefit of his vision. Whoever the tagger touches first then becomes the new tagger.
Continue Reading about Pools
• How To Keep Your Pool Nice and Toasty This Winter!
• Shout Out to the Shallow End – Unique Pool Steps and Ladders
Lyon Financial: America's Leading Pool Lender
Since 1979 Lyon Financial has made the backyard resort dream come true for over 500,000 families across the U.S. Through our solid relationships with more than 3,000 pool contractors and our continued commitment to putting our clients first, we have built a reputation as the first choice in providing pool financing solutions. For more information, visit lyonfinancial.net or call (877) 754-5966 today.