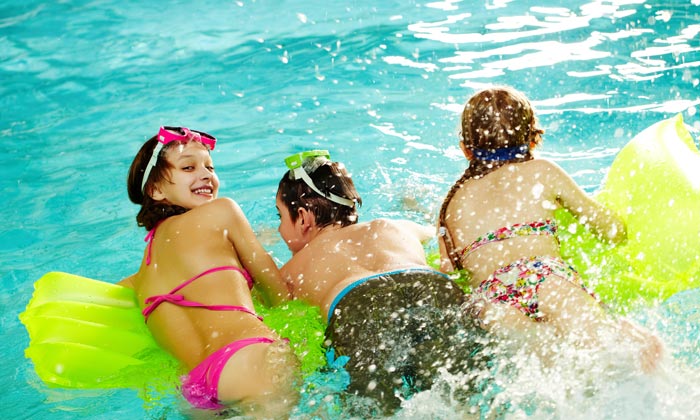 When it comes to pool parties, a little forethought may go a long way toward keeping things running smoothly. Here are a few additional ideas to consider for your next outdoor pool get-together.
Play Music Related to Your Theme
Music might help to make your gathering more exciting. To fit with your pirate theme, choose swashbuckling tunes or exotic island music to build the mood for your beach party. Just be careful not to annoy your neighbors by blasting the music too loudly. You'll want to maintain the music at a moderate volume so that your guests can mix and mingle without having to yell.
Maintain a High Level of Safety
Whether you're throwing a pool party for kids or adults, you want to make sure that everyone has a good time. Consider employing a Red Cross-certified lifeguard to keep an eye on the pool at all times if there will be a huge gathering. If you're holding a party with visitors who aren't strong swimmers, this is a particularly smart idea. Having a lifeguard on duty can provide added security for you and your guests. If you can't afford to take this precaution, at the very least appoint responsible persons to keep a constant watchful eye on the pool.
Before the party, you'll also want to make sure your pool is chemically balanced. Post pool safety guidelines in a prominent location and emphasize them at the start of the party. If you want to keep the party going into the evening, make sure there's enough lighting in and around the pool. Last but not least, remove any algae or debris from your deck that could cause a slip and fall catastrophe. Emphasizing pool safety helps ensure that a good time at the pool is indeed a good time at the pool!
Make Available Pool Items for Guests to Use
Make sure you have plenty of additional towels on hand in case someone forgets to bring their own. While you are at it, you could even stock up on inexpensive beach towels and simply inform your visitors that they are not required to bring them. Sunscreen, pool toys, and floats are all in the same category. Let guests know that you'll take care of all of their needs, so they won't have to bring any bulky beach bags with them.
Organize Your Outdoor Living Area
Designating a dedicated area for guests to store their belongings can make their stay much more enjoyable. People should be able to put their personal stuff in containers so they can find them quickly and easily after the party is ended. Set up discreet spaces for guests to change out of their wet swimming suits if they so desire. Set up a mat for the kids to keep their sandals on so you don't have to hire a detective following the party to conduct an all out search of your yard in the pitch dark with a ten man crew looking for them. A little planning will go a long way toward ensuring that your pool party goes off without a hitch.
Distribute Party Favors with a Pool Theme
Consider handing out pool-party gifts like sunglasses, miniature pool toys, or mini water pistols to add a personal touch to your event. Instead of waiting until the end of the day to distribute these favors, do so from the start of the celebration so that your guests can enjoy them all day.
Plan Some Entertaining Games & Activities
Whether you're throwing a party for youngsters or adults, putting together a few planned activities will help everyone get in the mood. Classic pool party games include ring tossing, water volleyball, and pool golf. Make sure that swimming is not a requirement for all of your games. Some of the games, such as limbo, croquet, and corn hole, can be played in the backyard away from the pool. Children's pool parties benefit from organized games since they deter younger attendees from becoming bored and acting up in the pool. Make sure you have a good mix of spare time and scheduled activities.
Hopefully, these suggestions will provide you with some further inspiration as you begin planning your ultimate backyard pool party. Have fun swimming!
Continue Reading about Pools
Easter Traditions: Poolside Edition
The Good, The Bad, and The Green About Natural Swimming Pools
Lyon Financial: America's Leading Pool Lender
Since 1979 Lyon Financial has made the backyard resort dream come true for over 500,000 families across the U.S. Through our solid relationships with more than 3,000 pool contractors and our continued commitment to putting our clients first, we have built a reputation as the first choice in providing pool financing solutions. For more information, visit lyonfinancial.net or call (877) 754-5966 today.