In our first post, we looked at some somber facts about drowning deaths in children. Additionally, we underlined how crucial it is to have constant, active adult supervision of kids near and in the pool. There is one more crucial distinction to make when discussing adult supervision. It is insufficient to simply have a lot of adults beside the pool or nearby. Someone has to be given the special job of observing the youngsters while they swim and play in or around the pool.
Always Designate a Specific Adult to Watch the Kids
It's simple to think that there will be enough supervision taking place when there are plenty of adults and kids mingling about the pool area, such as at a pool party. However, it's perfectly feasible for a drowning to happen right under everyone's noses unless someone is expressly appointed to supervise the children who are swimming in the pool. In fact, because of the distractions that are unavoidably present in a busy, crowded environment, it is not uncommon to have drownings at various special celebrations in backyard pools or hotel pools.
It is crucial to choose a responsible adult pool watcher expressly for this reason. To prevent anyone from interfering with the watcher's efforts to ensure the safety of the pool, this individual should wear a pin or badge or place a special sign in front of their poolside chair which makes blatantly clear their position.
To immediately draw the attention of anyone in the pool who is flouting the safety regulations, it is a good idea for the watcher to also have a whistle. Allowing different adults to take turns serving as the official pool watcher for intervals of 30 minutes is a fantastic idea. The watcher will be able to stay more perceptive while on guard thanks to this swapping out. If you assign one person to maintain watch all night, they can eventually get bored or complacent. Sharing this duty also offers everyone time to unwind and take pleasure in the celebration.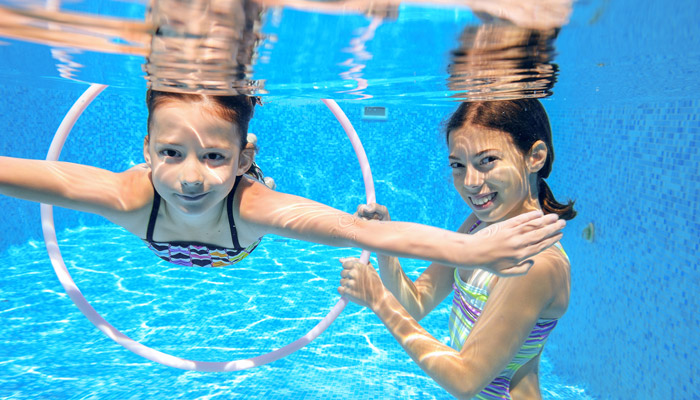 Even a Shallow Toddler Pool Needs Constant Watchfulness
People occasionally believe that because a pool is only for babies, it doesn't provide a drowning risk. Nothing is more false than that. A toddler can drown in just one inch of water. When it comes to children and water, it is never impossible to be too cautious.
Learn How to Give CPR
Every parent and caregiver needs to learn CPR, which stands for cardiopulmonary resuscitation. If a person's heart stops beating or they cease breathing on their own, CPR entails compressing their chest and blowing into their airways to keep them alive and ensure that oxygen gets to their brain. Find the closest CPR training facility and sign up for a session if you don't know CPR already. While kids are swimming in your pool, it's a good idea to have your assigned adult watcher be someone who is familiar with CPR, or at the at least, have someone else who is familiar with CPR around at all times that the pool area is being used.
The adults should take all of the aforementioned precautions to ensure that kids are safe near the pool. What about a child's clothing, though? How about swimming lessons for kids? These significant issues will be covered in the following article in this series.
Continue Reading about Pools
• The ABCs of Pool Safety
• Pool Filters: How to Choose
Lyon Financial: America's Leading Pool Lender
Since 1979 Lyon Financial has made the backyard resort dream come true for over 500,000 families across the U.S. Through our solid relationships with more than 3,000 pool contractors and our continued commitment to putting our clients first, we have built a reputation as the first choice in providing pool financing solutions. For more information, visit lyonfinancial.net or call (877) 754-5966 today.