While swimming has many great health advantages, including those for the heart, muscles, lungs, joints, and even the mind and emotions, you might not be aware that it might also have a few health risks. RWIs, or recreational water illnesses, can be brought on by a number of bacteria found in water, by an imbalance in chemical levels, or by a combination of the two (see Parts 1, 2 & 3).
Those who own their own swimming pools and meticulously maintain a proper chemical level and pH level have a significantly lower chance of being exposed to most RWIs in contrast with those who use public swimming pools.
Where Do RWIs Originate?
Some RWIs are propagated by coming into touch with water. These diseases can spread not just by inhaling mist near aquatic facilities, but also by ingesting polluted water. Many individuals are unaware that exposure to toxins can occur from any water source, including natural water sources like lakes, rivers, and seas as well as man-made sources like swimming pools, water slides, and hot tubs.
What RWIs Are Most Frequently Found?
The most typical group of RWIs is diarrheal illnesses, however skin infections, respiratory disorders, and ear infections are also on the list. Gastrointestinal infections, which can be brought on by a variety of bacteria, can include Shigella, norovirus, Giardia, and E. coli. However, Cryptosporidium, which is frequently abbreviated as "Crypto," is the most prevalent of them.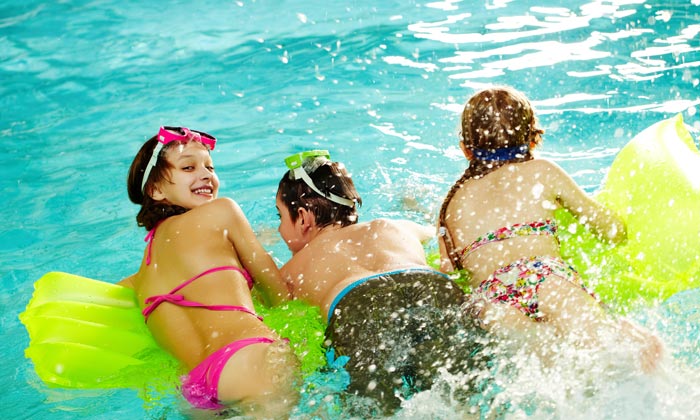 Crypto: the Chlorine Resistant Parasite
Crypto, a parasite resistant to chlorine, can last several days outside of a human body, even in clean swimming pools. Patients with crypto can experience diarrhea, which often lasts for two to three weeks. However, the symptoms might last for a few days or even a whole month. Although watery diarrhea is the primary symptom, exposure to Crypto can also cause fever, vomiting, and symptoms that frequently go hand in hand with diarrhea and vomiting, such as nausea, stomach cramps, dehydration, and weight loss.
While those with weak immune systems can manifest severe gastrointestinal and even respiratory symptoms, other people with good immune systems can actually have Crypto without ever exhibiting any of those symptoms. Most Crypto patients quickly recover without the need for treatment.
How Can Crypto Exposure Be Prevented?
People with private swimming pools have a lower risk of contracting Crypto or other gastrointestinal diseases than those who swim in public pools. Limiting pool usage can work in conjunction with promoting good cleanliness in anyone using the pool, as Crypto often enters the water through the feces of persons who have the parasite. You can lessen the possibility of infected feces getting into the water by requiring participants to shower before using your pool, prohibiting anyone with diarrhea from using the pool, requiring kids to take frequent bathroom breaks, and making sure that any diapers are changed in a location away from the swimming pool area.
Continue Reading about Pools
• Top 5 Safety Tips for Swimming
• How to Garden Your Way to Health
Lyon Financial: America's Leading Pool Lender
Since 1979 Lyon Financial has made the backyard resort dream come true for over 500,000 families across the U.S. Through our solid relationships with more than 3,000 pool contractors and our continued commitment to putting our clients first, we have built a reputation as the first choice in providing pool financing solutions. For more information, visit lyonfinancial.net or call (877) 754-5966 today.