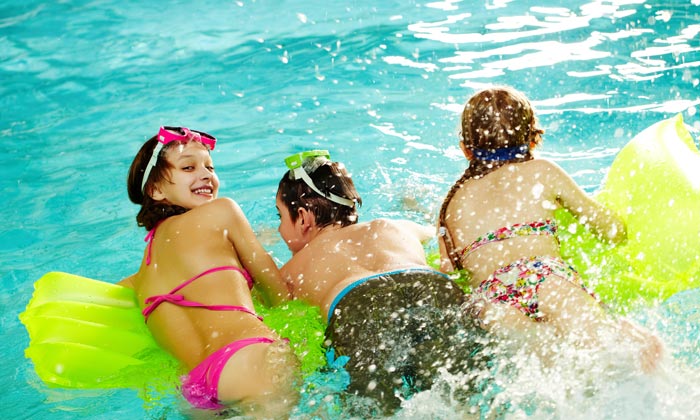 If you've already contacted a contractor, determined a target date, and looked into financing options (see Part 1), it may be time to consider more options, as you continue planning for your new backyard swimming pool. While you may have already considered some of these logistics, talking through them with your family as well as with your pool contractor may be enlightening. Either way, thinking through and communicating about these important topics can help you apply the wisdom of the old adage "measure twice, cut once."
Planning for Your New Pool, Step 4: Evaluate Personal Use
The kind of pool that's best for you will largely depend on how you plan to use your pool; while that may seem like a no-brainer, trust us: swimming pools are not one-size-fits-all items. Part of the equation is definitely considering who will be using your pool. If you have young children in your home or social network, you'll probably want to include steps for the shallow end. If someone you'd like to include is elderly or has a physical disability, you'll want to incorporate accessibility features as well. Other factors to consider are whether you plan to use your pool for only your household or to entertain on a larger scale. A hot tub is a must-have addition for some, while for others, it's not part of the picture at all.
Planning for Your New Pool, Step 5: Consider Your Future Plans
Depending on your planned use as well as your style preference and outdoor space, a shape other than rectangular might be the best fit. Perhaps you'd prefer something a bit unusual, such as an infinity pool or a natural swimming pool. Whether an uncommon pool style you prefer makes sense for your situation should include considering your finances as well as your plans for the future.
Is this home your forever home, or do you plan to move within the next 5 years? Depending on your job situation and likelihood of moving, you may want to carefully consider such an out-of-the-box design that may not appeal to all homebuyers. Less traditional options are also typically more expensive, so you'd probably be better off going with a more traditional style this time around and waiting to install the pool of your dreams at a long-term residence.
Planning for Your New Pool, Step 6: Be Realistic About Maintenance
If you've never had a swimming pool before, you might be surprised at how much maintenance is required. We're not trying to deter you from having a pool installed, just trying to encourage you to count the cost. Some pool owners actually relish the routine of pool maintenance, while others prefer to outsource it. Our point here is simply to go in with your eyes open. Keeping up with preventive maintenance on your swimming pool will pay dividends in savings on hefty repairs, just like it does for your home itself.
Continue reading with Part 3.
Continue Reading about Pools
Lyon Financial: America's Leading Pool Lender
Since 1979 Lyon Financial has made the backyard resort dream come true for over 500,000 families across the U.S. Through our solid relationships with more than 3,000 pool contractors and our continued commitment to putting our clients first, we have built a reputation as the first choice in providing pool financing solutions. For more information, visit lyonfinancial.net or call (877) 754-5966 today.