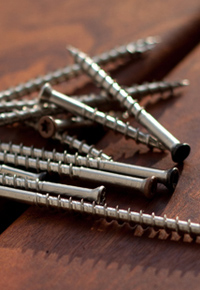 When installing a tropical hardwood deck, such as an Ipe deck, contractors are immediately faced with the question of whether to use face screwed or hidden fasteners to secure the deck. Each method has its benefits and shortfalls, and ultimately, the specific environment of the project along with customer preferences can make that decision clear for the contractor.
Face Screwed Fasteners
Face screwed fasteners tend to be a faster method when installing a deck. Relying on the natural flexibility of the plank, face screwing can be done quickly and allows room for expansion. However, problems start to creep up when contractors use more than one face screw across the width of a board. This will lead to problems in years to come as the wood is not able to readily expand. If you choose to face screw, one screw across the width is generally enough to secure the deck and allow for expansion.
So, if it is quicker and secure, what seems to be the problem with face screwing your Ipe deck? Well, for many, the appeal of an Ipe deck is the beautiful appearance. Face screws can leave exposed screw holes that are clearly visible as you walk across the deck. This blemish in the appearance may be enough for you to choose hidden fasteners.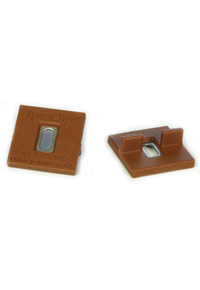 Hidden Fasteners
Hidden fasteners leave an unblemished appearance, because they are hidden and match the color of your decking. Some hidden fastener manufacturers even boast that this method is 3X more secure than other methods. Furthermore, the clip system leaves one edge of the board free for movement throughout the year, and the contractor needs to spend less time determining gaps if they choose a hidden fastener that already has a predetermined gap in mind.
So, what seems to be the problem with hidden fasteners? Well, they do take longer to install. But if time isn't an issue, that shouldn't be a problem. However, hidden fasteners do worry some contractors that there will be too much room for movement. As the deck moves throughout the year, the surface may become uneven.
Ultimately, what should you use? J. Gibson McIlvain Company supplies Ipe lumber, as well as bits, clips, fasteners, and screws for all of your decking needs. To date, the company hasn't been persuaded either way that one method is far more superior to the other. In fact, it appears that the choice will lie in the contractor's and customer's hands. For many, it comes down to time, money, and appearance. It is often the customer's personal preference whether they want face screws or hidden fasteners used.
The key to the perfect deck is that you choose a high quality wood to start with. J. Gibson McIlvain Company supplies Grade A Ipe from South American rainforests; J. Gibson McIlvain also supplies quality Ipe alternatives including Cumaru and Jatoba. By going through a quality control process, J Gibson McIlvain's premium decking lumber is the best choice when it comes to building your long lasting deck. So, whether you decide to face screw or hidden fasten your deck to secure it, ultimately, if you have only the best wood product, you will have only the best deck.
J. Gibson McIlvain Company
Since 1798, when Hugh McIlvain established a lumber business near Philadelphia, the McIlvain family has been immersed in the premium import and domestic lumber industry. With its headquarters located just outside of Baltimore, the J. Gibson McIlvain Company (www.mcilvain.com) is one of the largest U.S. importers of exotic woods.
As an active supporter of sustainable lumber practices, the J. Gibson McIlvain Company has provided fine lumber for notable projects throughout the world, including the White House, Capitol building, Supreme Court, and the Smithsonian museums.
From the McIlvain Blog: