Kids come with many more accessories than they used to. Well, not really, but in today's technology-saturated world, smartphones, tablets, laptops, and more have become increasingly prevalent in kids' lives. These devices are great for school, communication, and convenience, but they also add to the stuff to be stored in your child's room.
So why not buy furniture that's designed to accommodate electronics? That's what Smartstuff™ furniture is all about — incorporating technology as well as other useful features.
Cord Access
Charging a phone, tablet, or an iPod can be a hassle, especially if you're on your bed and want to use it while it's charging. You have to find an outlet, perhaps one behind the headboard, plug the charger in, and arrange the cord so it doesn't get caught on something.
Smartstuff™ gets away from these inconveniences by leaving a hole for cords in the back of certain nightstands. You can leave your phone or tablet on the shelf of the nightstand, run the cord through the hole into an outlet behind the nightstand. You could even leave the charger there permanently to make plugging electronics in even easier!
Built-in Night Light
If your child needs a night light, why not combine that with his or her bedroom furniture? Certain Smartstuff™ nightstands come equipped with a night light underneath. You simply touch under the top of the nightstand and the light turns on or off!
Built-in Reading Light
Reading good books is so important for all children, so why not encourage reading before bed? Reading beds come with a light on the headboard. It's perfect for children to read themselves to sleep, and it's convenient for you—no need to find and purchase another reading light! The light is small — it won't get in your way — and it's flexible — your child can angle the light to get the best lighting.
Touch Lighting
Desks are great pieces of bedroom furniture, especially for older children and teens, and a desk lamp is perfect for working on projects or homework. Instead of buying a desk lamp, consider the Smartstuff™ touch lighting. Certain desks and desk hutches (units that sit on top of a desk, providing for extra shelving) come with touch lighting. A simple tap will turn lights on and off — no need to worry about extra lamps!
Charging Stations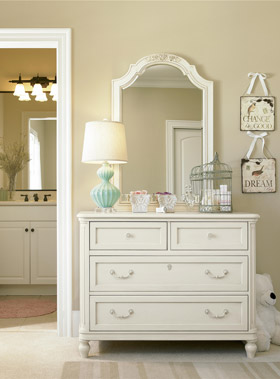 Finding an outlet can be a nuisance. Sometimes they're hidden behind furniture or the cord on your charger isn't long enough. Smartstuff™ includes outlets on furniture! You can plug in your cord at the base of a mirror, on your desk, or even on a dressing chest. No more hassle — just an easy plug-in. If you want to have the outlet concealed, certain nightstands come with a lift lid you can open to access an outlet.
Technology is everywhere. From phones to music players, chances are your child has some sort of device, so consider taking advantage of furniture that incorporates technology and is designed to accommodate phones, tablets, and more! Smartstuff™ provides multiple options for making the perfect technology-friendly bedroom for your child.
The Bedroom Source
Located near the Roosevelt Field Mall on Long Island, NY, The Bedroom Source is your source for the best collection of children's and teen bedroom furniture. From flexibly configurable Maxtrix furniture to fashionable Berg collections, The Bedroom Source offers high end furniture and professional design assistance to create the bedroom of your child's dreams.
Contact the friendly staff at The Bedroom Source by calling (516) 248-0600 or by visiting www.BedroomSource.com. When you purchase from the family owned & operated Bedroom Source, you're dealing directly with the owners and buying from a local mom & pop store. We professionally assemble everything we sell. We deliver to Long Island, the 5 Boroughs of New York City, Rockland, southern Connecticut, and northern New Jersey.