Having your own backyard fitness swimming pool offers incredible potential for improving your health! Your own peaceful oasis offers exceptional opportunities for private, practical aquatic workouts with the added benefit of delighting in the serene atmosphere you've worked so hard to create in your outdoor space. While any pool can provide you with the same kind of workout, it's hard to beat your own backyard oasis.
In Part 1, we looked at several sample training possibilities as well as the overall advantages of water exercises. This time, we'll examine a few more specific health conditions and the corresponding benefits that are specific to water exercise.
Exercise in the Water for Preventive Health
While aquatic exercises can be particularly beneficial for people with certain health issues, they can also be a part of a wellness regimen that benefits everyone's general health. Stress, anxiety, and sadness are all naturally lowered by swimming and other water sports. Swimming and water aerobics are believed to promote general cardiovascular health, enhance sleep quality, and improve body composition. Regular water exercise can help lower blood pressure, enhance insulin sensitivity, and lower cholesterol.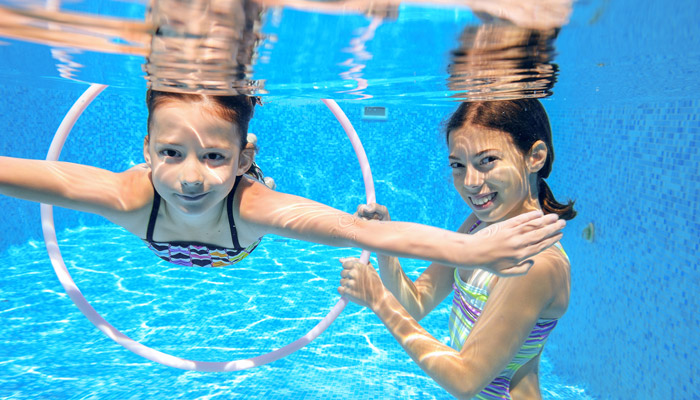 Chronic Illnesses & Aquatic Exercise
Having a personal pool gym can improve your health regardless of your current condition, but it can have a big impact if you have a chronic illness. You can lower your chance of developing a chronic illness or decrease the signs and symptoms of an existing chronic illness by engaging in aerobic exercise for just 30 minutes a day, five days a week. Aquatic exercises can increase joint functionality in people with arthritis without worsening symptoms; in general, hydrotherapy is more beneficial to the health of people with rheumatoid arthritis than other types of physical treatment. Aquatic exercises help damaged joints move more freely, which helps to lessen osteoarthritis discomfort.
Exercises done in the water are frequently simpler to do and produce excellent benefits for people who are pregnant or have other difficulties. This covers both physical restrictions brought on by asthma and those brought on by fibromyalgia, joint injuries, and multiple sclerosis. Pools may also provide a warm environment that encourages skill development and fosters family bonds for kids with developmental difficulties. Seniors who move regularly and gently while using buoyancy can retain the mobility of their limbs.
How to Make Aquatic Exercises Work for You
The availability of a pool gym does not guarantee that you will use it, just like with any healthy habit. Planning and dedication are needed to maintain a regular exercise schedule. By placing your workouts on your calendar and treating them as binding as your other commitments, you may position yourself for success. Of course, you can cancel your pool fitness workout if an emergency arises, but otherwise, maintain that appointment!
Having a fitness partner is one approach to holding yourself responsible for attending your regular training sessions. Even if you don't intend to exercise together, you may hold each other accountable by discussing your workout schedules and fitness objectives and checking in on each other's progress. If you follow through on your promises, you can also treat yourself to something; just make sure your reward doesn't backfire by harming your health.
Continue reading with Part 3.
Continue Reading about Pools
• The Good, The Bad, and The Green About Natural Swimming Pools
• Three Simple Steps to the Perfect Labor Day Pool Party
Lyon Financial: America's Leading Pool Lender
Since 1979 Lyon Financial has made the backyard resort dream come true for over 500,000 families across the U.S. Through our solid relationships with more than 3,000 pool contractors and our continued commitment to putting our clients first, we have built a reputation as the first choice in providing pool financing solutions. For more information, visit lyonfinancial.net or call (877) 754-5966 today.
Disclaimer: The Strategicia.com website does not provide medical advice, diagnosis or treatment. Content from this website is not intended for medical diagnosis and/or treatment. The information provided on this website is intended for general consumer information & should not be treated as a substitute for professional medical advice.