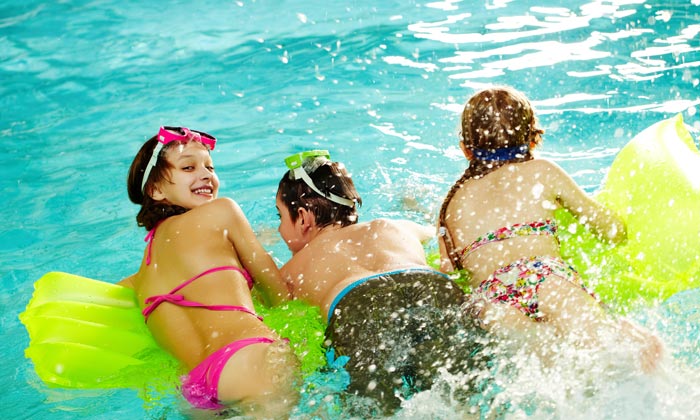 Outdoor swimming pools are versatile additions to your backyard retreat that offer ideal opportunities for both physical and mental health advantages. While simply gazing at a body of water is known to calm a person down, help lower blood pressure, and promote inner serenity, physically entering the pool and using it for actual exercise will yield the most health advantages. Having a pool right outside your back door makes it much easier and more convenient than getting up early enough to drive to the gym for a pre-work swim, even though it still requires some personal discipline.
Advantages of Exercising in Pools
Pool gyms, in contrast to conventional gyms, let you work out your entire body rather than just a few specific body parts. Exercises in the water are also less strenuous on your muscles and joints, and the cool water provides a more pleasant environment than workouts in regular gyms, which can leave you overheated, sticky with sweat, and physically exhausted.
Due to the greater resistance of water, performing the same exercise in the water as you would on land might be more difficult (and, hence, more beneficial). Aquatic exercise is quite effective, because you can burn more calories in a shorter amount of time because of this. Your pool gym will enable you to simultaneously work on strength, flexibility, endurance, and strength, unlike standard training devices in the gym that only target muscles. Simultaneously, water's inherent buoyancy helps support your muscles and joints, minimizing stress on your body and the risk of injury.
Advice for Non-Swimmers
Even while swimming might seem like the only activity you could do in your gym's pool, there are plenty more pool related fitness activities which don't require swimming skills. You can still get a full-body aquatic workout even if you can't stay afloat in water that's higher than your head. Many pool fitness exercises don't require any unique abilities, because they are made to be done in water that's no deeper than four feet, and they use motions which you've undoubtedly used before on land. You can use leg weights and dumbbells to increase the resistance if you're comfortable with the pool fitness movements in general.
Various Aquatic Activities
For good measure, if you can swim, you should swim a few laps around the pool. However, unless you're vying for an Olympic medal, you don't have to complete multiple, tedious laps. Instead, you might mix up the activities you do in the pool to make them more exciting.
Any exercises you perform in the pool will have the potential to burn more calories and tone your muscles more effectively since water provides more than ten times the resistance as air. Remember to include a 10- or 15-minute calming period during which you can catch your breath and let your muscles (and body overall) relax. You can enter the duties of your day with more calm and confidence by just taking a few moments to relax in your outdoor haven.
Continue reading with Part 2.
Continue Reading about Pools
• 10 Great Fire Pit Seating Ideas
• The ABCs of Pool Safety
Lyon Financial: America's Leading Pool Lender
Since 1979 Lyon Financial has made the backyard resort dream come true for over 500,000 families across the U.S. Through our solid relationships with more than 3,000 pool contractors and our continued commitment to putting our clients first, we have built a reputation as the first choice in providing pool financing solutions. For more information, visit lyonfinancial.net or call (877) 754-5966 today.
Disclaimer: The Strategicia.com website does not provide medical advice, diagnosis or treatment. Content from this website is not intended for medical diagnosis and/or treatment. The information provided on this website is intended for general consumer information & should not be treated as a substitute for professional medical advice.