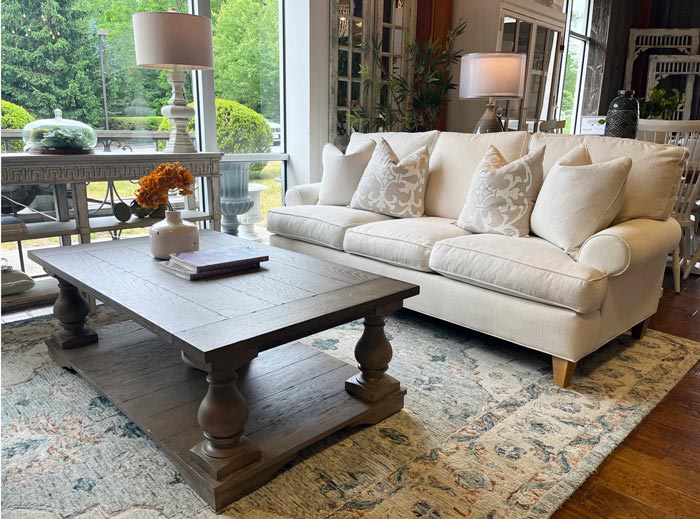 Country Willow is renowned for its all-embracing suite of interior furniture design services that elevates traditional and contemporary home styles to new heights. Proudly located in Bedford Hills, New York, Country Willow is a pioneering force in interior design services that helps transform cherished living spaces into personalized sanctuaries of comfort, style, and elegance.
Comprehensive Design Services
Country Willow's mission is to embrace your vision intuitively – delivering interior design solutions that mirror your dreams with a unique blend of creativity, functionality, and style. Their design services are crafted to cater to the diverse design needs of each client and cover the following areas:
In-Home Design
One of Country Willow's team of expert designers can visit your home to understand your space better and to gather valuable insights into your personal design preferences. These factors contribute to a customized design blueprint that aligns perfectly with your preferences while enhancing the underlying aesthetics of your space.
Complete Room Designing
Beyond accommodating your design tastes, Country Willow's team balances functionality and aesthetics seamlessly. They equip each room with only the finest furnishings and accessories that are skillfully curated, right down to window treatments, floor rugs and wall art.
Personal Shopping
Country Willow offers personalized shopping experiences, making the selection processes to be lower stress and more enjoyable. Clients can visit the Bedford Hills showroom, perusing through premium furnishings and decor with guided input from a dedicated designer to ensure that the purchased elements flawlessly augment the home design scheme.
A Lasting Partnership
Assured Guidance: From a vast array of design decisions to customizable furnishings selections, Country Willow's dedicated team walks the journey with you to help make what could become overwhelmingly complicated into a much simpler path. Their seasoned interior designers provide supportive guidance through each step of your interior space transformation process, ensuring the ultimate realization of your dream home.
Seamless Collaboration: Client collaboration is at the heart of all endeavors at Country Willow. The interior design team works harmoniously with you, valuing your input while applying professional expertise to amplify the design impact.
Wondrous Transformation
Country Willow goes beyond providing ordinary design services; their design team offers transformations. The Country Willow designers harmonize function with aesthetics, breathing fresh life into space while preserving its character and transforming it into a unique, beautiful, and livable sanctuary for you.
If you look forward to experiencing a refreshing transformation of your living space, infused with a robust blend of functionality, aesthetics, and your personality, then Country Willow is indeed your go-to design consultancy. Their sheer dedication, seamless collaboration, and incredible attention to detail have set a platinum standard in the world of interior design services. Embrace the future with Country Willow furniture – get ready to be amazed!
Country Willow
Learn more about Country Willow by visiting their website at www.countrywillow.com. Visit their large furniture showroom, located at 230 Route 117, Bypass Road in Bedford Hills, New York. The showroom is open Monday – Saturday from 9:30 AM to 5:30 PM and on Sunday from 11 AM to 5 PM. Call Country Willow at (914) 241-7000. Country Willow uses their own highly-trained delivery teams to guarantee the very best level of quality, service and safe installations. Country Willow delivers to New York, New Jersey, Connecticut, Massachusetts and Vermont and some neighboring areas. Contact the store staff with any questions you may have.