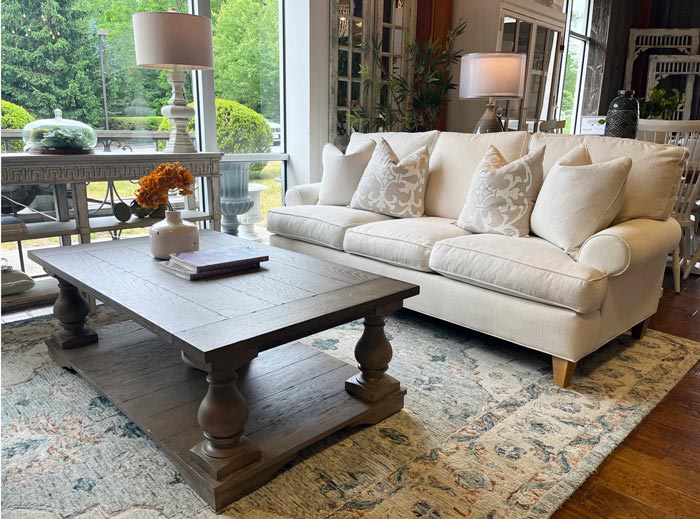 Recently celebrating 27 years in business, Country Willow features furniture collections in many well-designed showrooms throughout its more than 30,000 square feet in the Bedford Hills, NY showroom. The store originally sold country style furniture, but now it carries a wide variety of styles from high-end domestic and select international vendors to suit any taste and budget.
Since opening Country Willow in a modest 1,000 square foot space in Katonah, NY, the original owners Cori and Roy Estrow poured their hearts and energy into always growing and improving their furniture shop. Today, their original dream has definitely come true in more ways than they ever imagined.
Following Roy's death in 2018, Roy's nephew Michael Leibowitz took over as CEO. "We kept true to the original country and country French styles," he adds. "When we expanded, we were able to incorporate many new design elements, including those that are more transitional. The current combination is a good mixture. There is still some country decor available. People who aren't familiar with our selection may assume that because we're called Country Willow, we specialize in only country furniture. However, there is now a wide variety of newer and more contemporary styles, such as Mid-Century Modern and Scandinavian, on our showroom floor."
Leibowitz claims that Country Willow's competitive edge over chain furniture stores lies in its commitment to quality and service, which has been maintained thanks to the founding family's continuous involvement in the store's leadership. Country Willow is not like most other furniture stores, because of its unique layout and management style. (Under the auspices of an ESOP – Employee Stock Ownership Program, Country Willow is run by its employees who are also its de facto owners.)
In this day and age of online buying and mass production, the Country Willow brick & mortar retail experience seems doomed to extinction. However, according to Leibowitz, the service they provide makes their clients feel like part of the family, and once customers experience that difference compared to the sterile shopping by internet, customers fall in love with the store and the staff, and they keep coming back for more.
The store's designers and salespeople are trained to help clients find exciting new pieces for their homes, but they also excel at learning about each client's preferences and working with them to make their dreams a reality through the use of unique custom furniture and comprehensive, free design services.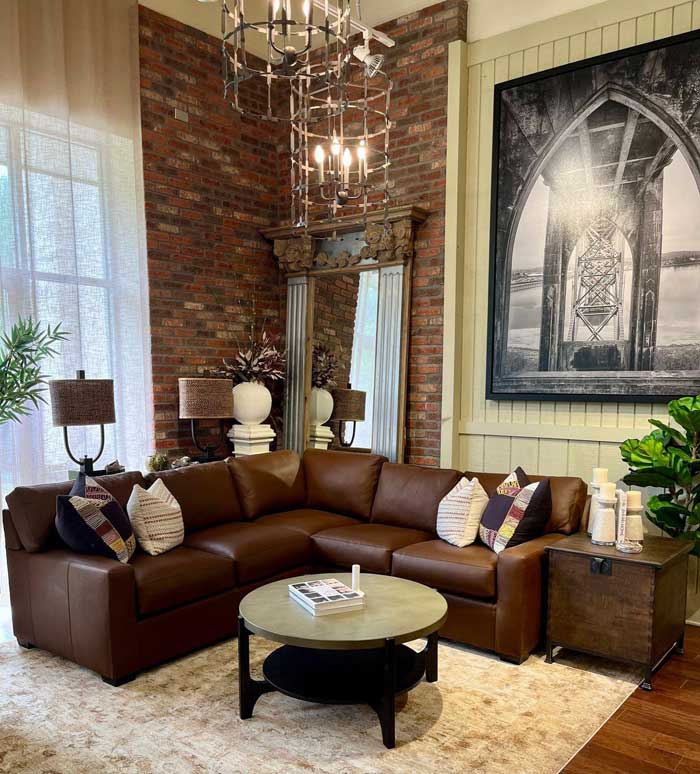 As Leibowitz puts it, "The specialty has always been custom with the idea of having lots of fabrics to choose from, different sizes of the pieces, and the ability to select the firmness of the cushions that you want. Everything is designed to provide a personalized encounter, and for the customer who wants to go all out, Country Willow offers a little something extra."
Customers seeking for more than just furniture can benefit from the store's many free design services, which can help them plan the entire appearance and feel of a room, house, condo or apartment.
In order to help customers better visualize how their new furniture will look in their homes, Country Willow offers free in-home consultations during which an expert will measure the room, take detailed digital measurements, and produce a 3D rendering. Customers can help the designer get a better feel for the space by bringing in their own measurements and images.
They can next decide if they want a designer to help them with finishing the overall look by selecting from Country Willow's extensive selection of rugs, lighting, window treatments, chandeliers, mirrors, and artwork.
The store's original focus was on conventional home decor, but the addition of The Loft at CW several years ago has allowed Country Willow to reach a wider demographic, including young people who may be renting smaller rooms and have less traditional tastes than in the past.
Our slogan is "Furniture for Life" Leibowitz asserts. "Our goal is to supply stylish, high-quality furniture at a wide range of pricing points. To help individuals get started, we do carry some items that are apartment-sized and priced accordingly. There's also other aspects to consider. To some extent, I believe that our capacity to offer unique designs for specific furniture pieces provides us a little bit of an appeal to a different customer, while we do our best to cater to everyone. We are not a bargain retailer, as the furniture is unquestionably of superior quality. But I believe we attract a wide variety of people, from those on a tight budget to those who know exactly what they want, because there are so many people who come up here to the store from the city."
Country Willow's main showroom caters to all these preferences, while its Loft showroom focuses on urban, industrial, mid-century contemporary, and Nordic designs.
As Leibowitz puts it, "Mid-century modern is very popular right now. We're seeing more of the contemporary style and even some of the sleeker modern style. On the flip side, there are many new performance fabrics appearing on the market, making it easier for people who lead normal lives and have children and pets to purchase and enjoy high-quality furniture without worrying about potential damage."
Leibowitz is confident in the niche that Country Willow fills in the local furniture market despite supply-chain jams over the past several years, customers who are increasingly becoming accustomed to shopping at home and receiving their purchase in two days, and competition from companies that can cut costs by compromising quality.
"There's an energy in here that you just don't get when shopping for home furnishings anywhere else."
Country Willow
Learn more about Country Willow by visiting their website at www.countrywillow.com. Visit their showroom which is located at 230 Route 117, Bypass Road in Bedford Hills, New York. The showroom is open 7 days a week, Monday – Saturday from 9:30 AM to 5:30 PM and on Sunday from 11 AM to 5 PM. Call Country Willow at (914) 241-7000. Country Willow delivers to New York, New Jersey, Connecticut, Massachusetts and Vermont and some neighboring areas. Country Willow uses their own highly-trained delivery teams to guarantee the very best level of quality, service and safe installations.