Based near Charlotte, North Carolina, Clearwater Septic & Pumping is a family-owned-and-operated business. The septic specialists at Clearwater are committed to providing courteous, affordable, professional solutions. Both parts and labor are 100% guaranteed, and all our certified technicians are licensed, bonded, and insured. Whether you require emergency septic system repairs or simply ongoing maintenance, our family is here to serve yours.
Septic System Maintenance
Like so many areas of home ownership, when it comes to your septic system, preventive maintenance goes a long way toward saving you both frustration and major expenses. This starts with being proactive and cautious regarding your system. We highly encourage our valued customers to regularly inspect their septic tank and pump, noting any signs of damage or wear, and checking the drain field for any irregularities.
Additional ways to help reduce the potential need for costly repairs include properly disposing of waste and making sure your tank and drain field remain free from surface waters. By avoiding adding chemicals to your tank, restricting use of the garbage disposal, and being cautious about overuse of water, you can further increase your septic system's performance and extend its lifespan.
In addition to those maintenance steps that you can certainly DIY, it's also key to call professional septic specialists if you notice or even suspect a problem. Regularly getting your septic tank pumped and cleaned (at least once every 3 years) is also extremely important. If you live around the Charlotte, North Carolina area, you can call Clearwater Septic & Pumping for a free estimate or request our low-cost septic tank pump-out services, which start at only $225.
Sump Pump & Lift Pump Repair Services
In addition to septic tank cleaning and pumping services, here at Clearwater we also offer repair services for both sump pumps and lift pumps. Your sump pump might require attention if you notice a stuck valve or jammed float valve. Something else that can mean repairs are needed is if there's no water in the sump pit yet the sump pump is trying to run (burning out the motor). If a damaged sump pump is not addressed, property damage due to water in the basement and expensive repairs to your septic system could result. If you notice a foul smell, it could be a sign that your lift pump requires attention. Other hints that a lift pump has been compromised include slow pipe drainage, standing water in a drain or sink, or water backup anywhere in the system.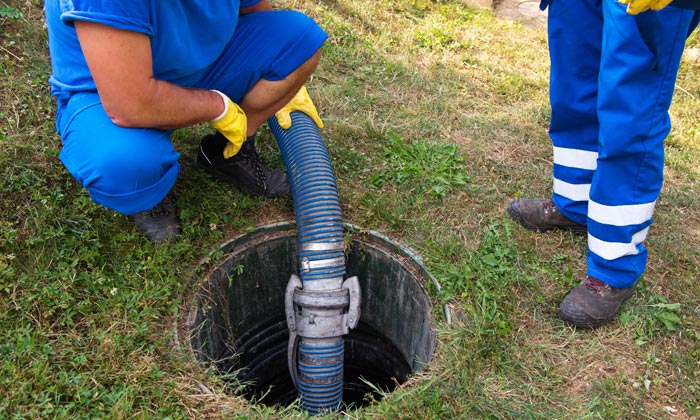 Clearwater Septic & Pumping
If you live in the vicinity of Charlotte, North Carolina, find out why Clearwater Septic & Pumping has become a trusted name in septic system solutions throughout your area. Contact us online or call (704) 630-5619 for regular maintenance, emergency repair services, or anything in between.